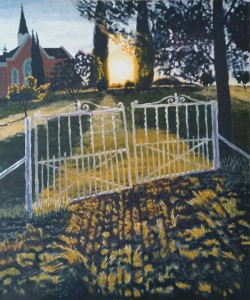 Title: "Son sak op die NG Kerk, Lady Grey", by Andries Bezuidenhout, oil on canvas, 90x76cm, 2016
Translation of the title: "Sun sets on the Dutch Reformed Church, Lady Grey." Lady Grey is a small town close to South Africa's border with Lesotho and hosts an arts academy for primary and secondary school pupils. The town was named after Eliza Lucy Spencer, the wife of the governor of the Cape Colony, Sir George Grey.
Sold by IS Art Gallery.