Visual art, poetry and music by South African artist
Andries Bezuidenhout
As visual artist, Andries mostly produces oil paintings of South African and other African landscapes. He explores the radical potential of landscape painting, seen as a conservative genre, in times of environmental degradation and rampant social inequality. His paintings depict cities, mining towns and South Africa's rural hinterlands. He lives in the historical town of Alice in South Africa's Eastern Cape Province and cites artists such as Moses Tladi, Walter Meyer and Vilhelm Hammershøi as influences.
As Afrikaans speaking poet and musician Andries explores matters of identity and belonging against the backdrop of changing South African landscapes. His work, as Lloyd Gedye writes, is "fascinated with the idea of white people finding peace in the new South Africa, reconciling their troubled history and positioning themselves within the social fabric of South Africa — and the bleak dry landscape is the perfect metaphor for that history. While friends emigrate and others live in fear, Bezuidenhout is looking forward — too much a part of this country to quit…" Fred de Vries describes Andries's songs as having "a bleak, almost tinny sound… that tell tales of leaving, murder and ecological disaster. Discomforting tunes for an uncertain age, but always with a touch of humour."
Andries was a member of the Brixton Moord en Roof Orkes ("Brixton Murder and Robbery Band"). He now mostly performs as solo artist in the singer-songwriter genre.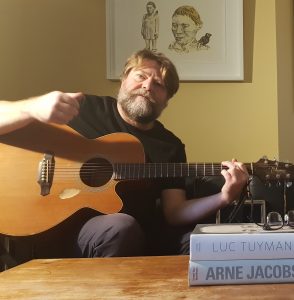 From the media:
"For me Andries is one of the most exciting and versatile characters in the alternative Afrikaans scene." -Fred de Vries, LitNet.
"He may describe himself as a mere 'blip' on the Afrikaans cultural scene but Andries Bezuidenhout's new album Bleek Berus positions him as one of the country's most significant songwriters." -Lloyd Gedye, Mail & Guardian.
"Bezuidenhout is Afrikaanse rock se gewete." – Dirk Jordaan, Beeld.
Publications:
Retoer (2007, Protea Boekhuis) – poetry
Toeris in Hillbrow (2010, Human and Rossouw) – newspaper columns
Veelvuldige gebruike vir huishoudelike toestelle (2014, Protea Boekhuis) – poetry
Albums:
With the Brixton Moord en Roof Orkes, Spergebied (2002, Rhythm Records), Terug in Skubbe (2004, Rhythm Records) and Slaaptyd in die Suburbs (2015, Independent)
As solo artist, Insomniak se Droomalmanak (2003, Rhythm Records), Bleek Berus (2009, One-F Music), Onplaats (2020, Die Wasgoedlyn), and Spoorlangs (2021, Dikeni Records).
Details of available works of art here.
---