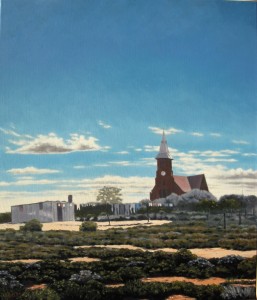 Title: "Geloof, De Hoop en wasdag", by Andries Bezuidenhout, oil on canvas, 71 x 61 cm.
The scene in this painting is of a church and a corregated iron house at De Hoop, near Oudtshoorn, in South Africa's Western Cape Province. The settlement's name means "The Hope". Farmers in the area built the church in the painting, hoping that it would become a church town. The town never materialised and the settlement now consists only of a few buildings, including the corrugated iron house in the painting. A translation for the title would be something like "Faith, Hope and Washing Day".
Price: Sold
Click here for a poem on the painting (in Afrikaans), as well as a conversation with, amongst others, Breyten Breytenbach, Johann de Lange and Desmond Painter on the poem and the painting (also in Afrikaans).
For sales contact: admin[at]andriesbezuidenhout.co.za Paintings can be viewed at the artist's studio in Murrayfield, Pretoria by prior arrangement.