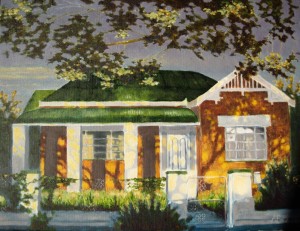 Title: "Belgravia, laatmiddag", by Andries Bezuidenhout, oil on canvas, 35.5 x 45.5 cm
Late afternoon in Belgravia, a suburb of Kimberley in South Africa's Northern Cape province. The house was most probably built by the diamond mining company De Beers. Kimberley was the hub of diamond mining in South Africa and the country's notorious compound system for migrant mine workers originated here.
Price: Not for sale
For sales contact: admin[at]andriesbezuidenhout.co.za Paintings can be viewed at the artist's studio in Murrayfield, Pretoria by prior arrangement.