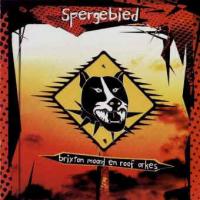 Spergebied is die Brixton Moord & Roof Orkes se eerste album, wat in 2002 deur Rhythm Records vrygestel is. Die CD is nie meer in die handel beskikbaar nie, maar kan nog van die web afgelaai word.
Rhythm Records se mediaverklaring vir die vrystelling van die CD in 2002:
Die Brixton Moord & Roof Orkes se Debuut-CD, "Spergebied", word Vrydag, 3 Mei by The Bohemian in Richmond gelaunch.  Nog 'n Brixton band, Damn the Icbergs, sal by die geleentheid optree.
"Spergebied" word deur Rhythm Records versprei. Die produksie is deur Paul Riekert van Battery 9-faam behartig, en is tussen November 2001 en Januarie 2002 by RP Studios (M3) en One-F Studios in Johannesburg opgeneem.  Die CD bevat 'n aantal gunstelinge van die band se songs wat handel oor "heel alledaagse" onderwerpe soos oorlog, misdaad, dwelms, drank, emigrasie en road rage.  Hulle enigste liefdeslied, "Witwolke", is ook op die CD beskikbaar.
"Ons hou die songs oor seks, soos 'Sussie se Sweep' en 'Wie is Lisa Forward?' maar vir ons volgende CD," sê Roof Bezuidenhout, sanger en kitaarspeler:  "Ons wou ook nie te vinnig 'n CD uitbring nie.  Ons dink dis belangrik om eers self jou musiek na die mense toe te vat om te sien wat hulle daarvan dink.  Maar nou begin hulle te veel moun omdat ons nog nie 'n CD het nie."
Die band is pas terug in Johannesburg na 'n aantal landwye optredes, insluitende die Jack Daniel's Deconstruction Music Festival naby Nigel, die Willie Smit Festival by Oppikoppi in Northam, en Kaktus op die Vlaktes en die Tassenberg Stalteater by die Klein Karoo Nasionale Kunstefees in Oudtshoorn.
Die Brixton Moord & Roof Orkes is een van 'n nuwe generasie Afrikaanse rock bands wat volg in die spore van mense soos Koos Kombuis, Valiant Swart en Johannes Kerkorrel.  Soos Pieter Redelinghuys in Insig (Desember 2001) skryf: "Vandag se kragtige Afrikaanse musiekgroepe gee Afrikaans skop in rock, pop, folk, hip-hop, punk en selfs boeremusiek en ghoema." Hy noem Diff-olie, Gramadoelas, Beeskraal, Plank, Brixton Moord en Roof Orkes, Spinnekop, Akkedis, Duusman, Brasse Vannie Kaap, en Battery 9 as voorbeelde.
Op die oomblik bestaan die band uit Brixton Barnard op baskitaar, Moord Greeff op tromme en brandewyn, Roof Bezuidenhout op stemme en kitaar, en Kapelaan Pat Plank op lead kitaar.  Musikaal wissel die band se styl tussen melancholiese folk-klanke van songs soos "Asyn" en "Geraamtes in jou kas", tot die harde rock van "Road Rage" en "Brixton-dae".
"Dit kan sommige mense afsit," sê Inspekteur Mary Martins-Engelbrecht oor die gevaar dat die Brixton Moord & Roof Orkes dalk verkeerdelik met die polisie verbind kan word.  Sy het die band al op "Geraas" gesien (Beeld, 27 Desember 2000).  Ongelukkig maak sommige mense nog die fout om te dink die Brixton Moord & Roof Orkes is 'n polisie-blaasorkes, in plaas van die Afrikaanse rock band van Johannesburg wat hulle wél is.
"Dit is vir ons baie snaaks dat die eenheid óns naamgenoot is," sê Moord Greeff, die band se tromspeler en skrywer van sommige van hulle lirieke.  Intussen is die polisie se Brixton Moord en Roof Eenheid gesluit om plek te maak vir die Johannesburgse Ernstige Gewelddadige Misdaad Eenheid.
Die band is einde 1999 deur Roof en Moord in Brixton begin toe hulle by die Abelarde Sanction begin optree het.  (Dit het gehelp dat dit binne kruipafstand van beide se huise is). Die Abelarde Sanction is 'n berugte kroeg in Brixton waar vele bands hulle tande op die live scene slyp.  Sommige van hulle, soos Sunways, Karen Zoid, en Zen Arcade, is nou al bekend, maar baie ander is net eenvoudig só underground dat hulle waarskynlik nooit tot 'n groter mark sal deurdring nie.
Gelukkig het die Brixton Moord & Roof Orkes vinnig vooruit gegaan, en reeds in April 2000 vir die eerste keer by die Oppikoppi Easter Festival opgtree.  Sedertdien het hulle nog drie keer by Oppikoppi gespeel.  Benewens 'n verskyning by Aardklop in Potchefstroom, sluit ander venues waar hulle die afgelope twee jaar opgetree het Up The Creek (Hatfield, Pretoria), Bugsy's Beat Bar (Randburg, Johannesburg), Cool Runnings (Wonderboom, Pretoria), The Nile Crocodile (Lynwood, Pretoria) en Oppistasie (Sannieshof) in.  Hulle het ook al verskynings gemaak op TV programme soos "Geraas", "Kwêla" en "Draadloos", en (meestal) gunstige artikels in publikasies soos Beeld, JIP, Insig, The Wire, De Volkskrant, en die Burger losgeslaan.
Uittreksels uit resensies:
Afrikaans music in the folk or folk/rock style has been around for ages, producing excellent song writers like the superb Koos du Plessis and Koos Kombuis, reflecting many aspects of life in South Africa. This album carries on in that fine tradition. Spergebied (restricted or no-go area) is an incredibly frank and honest look at Joburg and its people, particularly those living in the south. No-go areas of the human psyche, despair, hope, deterioration, love and violence are confronted with humour, anger, irony and sensitivity using brilliant imagery. Die Geraamtes in Jou Kas takes an evocative look at the township war and the effect it has left on the young conscripts in the Casspirs. Don't let me give you the impression that this album is all doom and gloom. There is a great balance and serious fun, some great lines and good music that will leave you wondering when the next Brixton Moord en Roof Orkes CD will be coming out.
– Etienne Creux, Pretoria News, 21 August 2002
Hoor die sirenes van een nul trippel een / hoor die skote in Westbury klap / die sente van 'n bedelaar, die rande van 'n pusher / koop nie die vrede wat ons almal voor wag… want soos al die dae, al die dae / soos al die dae was vandag maar kak… Só sing Roof Bezuidenhout op "Brixton Dae", een van twaalf snitte op die Brixton Moord en Roof Orkes se treffende debuut-CD, "Spergebied". Daar is volop verwysings na lewe in die stad – misdadigers, padvarke, drank- en dwelmlustiges, geldwolwe en sukkelaars skuur skouers en kry lewe op snitte soos "Geen Land", "Road Rage", "Dronk op jou eie", "As die yuppies jodel" en "Sewe rand vir die maand". BMRO se rock het egter sy voete geplant is sterk folk-elemente. Dis op enkele snitte waar die angry rockdraak sy vuur spuug (vernaam "Road Rage"). Die res is akoesties van aard en dus sag genoeg om met oorgawe na BMRO se priemende lirieke te luister. "Spergebied" is 'n knap debuut, ondanks die feit dat dit situasies en plekke skets wat plattelanders en diegene buite die geteisterde grense van Egoli dalk vreemd of onbekend sal vind. Die aggressie sou meer woema gehad het met 'n elektriese kitaar in die groep (wat ná hierdie opname wel gestalte gekry het in die vorm van Pat Plank). Die vooruitsig laat 'n mens uitsien na BMRO se opvolg-CD, want Afrikaanse rock het liriekskrywers soos hierdie nodig.
– Pieter Redelinghuis, Insig
Firmly in the middle of the new wave of Afrikaans rock bands, BMRO plays driving folk rock – kind of like Koos du Plessis had he ever heard Nirvana. Yes, they're really from Brixton, and with the bearded Andries Bezuidenhout at the helm and the eclectric Esme Eva Kwaad as occasional sidekick, they're becoming a live act to be reckoned with. Their debut album is uncomplicated in sound an filled with great songs (good lyrics is one of their hallmarks) about women, drinking, Jo'burg, yuppies, road rage and life in general. 'Brixton-dae' is a classic already, with our heroes waiting for 'beter dae, want vandag was kak.' 'Geen Land' looks beyond SA's kak and crime to possible saviours, while 'Dronk Op Jou Eie' explores the familiar beauty of getting drunk on your own: 'Ek wil hurk in die gorrel van 'n bottel/ Ek wil skuil in die stilte tussen teue.' On the whole, music that will make you feel better the moring after you did something reprehensible.
– Toast Coetzer, SL Magazine, Desember 2002/Januarie 2003
Every now and then (quite often, actually) I get tired of listening to songs about Nashville, Tennessee, New York, New York, Route 66 and the Vietnam war. Loud applause greets Bruce Springsteen everytime he sings about his Jersey Girl and being Born in the USA. But these (and other) songs mean very little to a born and bred South African like myself. Where are the songs written from the South African perspective about life and living in South Africa? Well, actually there are plenty. A few recent English-speaking (or should that be singing and rapping) artists, like Moodphase 5ive and Syd Kitchen, sing about life as it really is in South Africa, but if you really want songs about Jeffreys Bay, driving through the Karoo, Port St Johns, buying drugs in Stellenbosch and picking up girls from the Strand, listen to the Afrikaans rock poets. There are far too many to name here, but one of the newest Afrikaans rock bands to sing about real life in South Africa are the Brixton Moord en Roof Orkes (Brixton Murder and Robbery Band). To quote their website: "Brixton" here does not refer to the Brixton in London, but to a suburb of Johannesburg, South Africa. The name of the band refers to a notorious police unit (now disbanded), that was stationed in the suburb… On their debut album 'Spergebied' (Restricted Area) they sing about the dark side of South Africa, based on their own very real experiences. There are songs about living and jolling in Brixton and Melville (Brixton-Dae), the merits of getting drunk on your own (Dronk op jou eie), road rage (err, Road Rage) and a song for those that leave SA for greener pastures (Geen Land). And I love those little soundbites that link the songs: "this is the final call for passengers Barnard, Greef and Bezuidenhout delaying British Airways flight to London…" and "you have no new messages". 'Geraamtes in jou kas' is about the nightmares that are suffered by the soldiers that had to go into the townships to "maintain the peace". "Jy onthou die vure/ en die wiele van 'n Casspir/ en die reuk van brandende rubber/ deur die neus van jou gasmasker". This is not a very cheerful album on the lyrical side, but the music really rocks. So, to mis-quote Syd (Kitchen, not Barrett), this CD is not for sissies, but the brave listener who ventures into this Restricted Area will be rewarded with some very unrestricted Afrikaans Rock.
– Brian Currin, SA Rock Digest, April 2002